Thank you for visiting diaperzoo.com
My name is Brenda. I am the owner and designer of Diaper Zoo. I am 56 years old (going on 10) and have been told that I have a creative mind. I used to be a travel consultant for over 22 years, so I have paid my dues to the corporate world. I truly understand the concept of customer service and making people smile.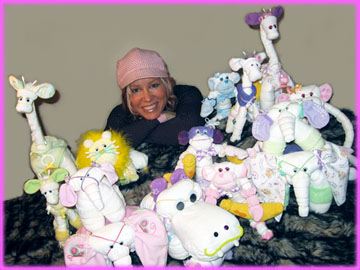 I LOVE to laugh and realize that life is too short to take the small things in life too seriously! After being in the travel business for so long I felt like I needed to do something that would better display my creativity and silly side. After all I am 56 years old but have really never grown up!!!

I happened to be at a baby shower one day and saw my first diaper cake centerpiece. I had never seen one before. I loved it! I thought it would be fun to give it a try. I had no idea where to start, but I am a very visual person so I knew that if I sat down at my kitchen table with diapers, elastic hair bands, ribbons and a few other crafty items I could probably come up with something. The next baby shower that I had coming up was for my niece. She loves animals in every size, shape and form! I was going to make a diaper cake and throw some little stuffed animals on top of it when it hit me..."why don't I try and make the little animals out of the diapers!" Since I was in the travel business for so long I have been fortunate enough to go on several cruises and remembered seeing the cute little animals that the cabin stewards had rolled out of the bath towels in my cabin. Eventually I came up with the mommy and baby diaper elephants then the giraffes, and so on...
I had so much fun coming up with them and seeing the reaction on people's faces when they saw them for the first time; I knew this was my calling. That's how my crazy world of diaper rolling came about.

I love constructing the diaper characters, but my true passion is designing and creating new ones. After about a year of making and shipping out many, many pre-made characters, I wanted everyone to know what it feels like to create and give such a special hand made keepsake to their loved ones at such a special time in their lives! Not to mention the smiles and laughter each individual diaper character creates. That is where the e-books came in. The rest is diaper history!

If you are brave enough to keep up with my website, get ready to be blown away! I am always coming up with new designs as fast as my hands can keep up with my wacky brain!

Just wait until you see whats in store for the future…

We are going to have some C-R-A-Z-Y F-U-N!